Relax. Expand. Connect.
A great retreat or training is always best when complimented with grand new adventures and experiences into the surrounding landscape and culture. Belize Jungle Yoga can organize any of the activities that have made Belize one of the premiere travel destinations in the world. Lead your group on adventures to the mystical Maya underworld, see breathtaking waterfalls, or go for world class snorkeling on our Great Barrier Reef. Experience the wonderment of Belize with a cultural experience or a jungle moon dance. Practice yoga at the Maya temples or learn bush medicine from a traditional healer. Belize Jungle Yoga's program directors have hosted retreats and lived in Belize over 25 years. Whatever it is your students seek, Belize Jungle Yoga will customize your retreat experiences to fulfill each groups desires.
All group activities must be coordinated by the retreat or training leader directly with a BJY program director.
Be transformed by the gifted touch of our expert massage therapists, in our serene outdoor massage shala, nestled between our medicinal herb garden, meditation pond and the surrounding jungle paradise. Choose from our customized oil blends for your treatment and let the sounds of nature serenade you.
Start your trip at Ayinha and set out on Maya Temple Safari full of lush scenery and wildlife. Journey to the ancient temples of Lamani to learn about the vast and mysterious Maya empire. The spirit and energy of this trip is unlike any other in Belize. On-site yoga or meditation at Lamani can be coordinated with your BJY concierge.
A fun and playful tour just down the road from the retreat center. The highlight of the tour is supposed to be the black howler monkey but it is often hard to outshine the knowledgeable and witty tour guides for which they are known. Combine the Lamani and Ecolution tours for a full day tour!
The Island Excursion Tour is a favorite for guests of Belize Jungle Yoga. It is a big splash into the island culture and beauty of Belize's Great Barrier Reef. It is an epic day full of sun, sand, and sea. Complete with a fresh seafood lunch and snorkeling session this tour gives you a taste of everything from life on the cayes.
Take a dive into ethnobotany of Belize. Learn about native medicinals for the surrounding jungle and create your own bush medicine. Each person make their own jungle bitters cleanse. To take home. This cleanse is great for people that want to increase fertility or are dealing with disease.
Surrender to the flow and let out your primal spirit to dance around the campfire. Fueled by the beat of indigenous drums this experience will have you ascending into the galaxy from the heart of the jungle.
This is a great option for people that love the outdoors. Kayak the Spanish Creek Wildlife Sanctuary and observe some of nature's most exotic wildlife species. Toucan, tapir, baboon, jaguaritos and more can be seen when kayaking the Spanish Creek.
Garifuna Culture Experience
This tour takes you to explore Garifuna culture through food, music and storytelling. Enjoy a trip to Dangriga, a coastal town known for fishing and Garifuna culture. Enjoy a stop along the way at the Belize Spice Farm to awake the senses with a garden experience unlike any other. Walk along the herbs and stop in the shop for an amazing selection of products.
Old Belize Museum and Beach
Old Belize shows the history, events and people that shaped this country in pursuit of personal and colonial freedom. Old Belie is able to rekindle the spirit of the past while providing an atmosphere where history, fun and great food makes for an unforgettable experience. A 90 foot slide, a rope swing, zip line and trampolines adorn the beach on the Caribbean Sea making it an fun and informative experience.
A trip to Big Rock falls, deep in the Mountain Pine Ridge is a highlight for many trips to Belize's Cayo District. A secret trek through citrus fields and changing terrains leads you to the site of the breathtaking waterfall. Enjoy this hidden treasure and soak your soul in the cleansing waters of the Privasion River.
Go back in time with a pilgrimage to the Maya center. This cultural experience teaches you about the three types of Maya in Belize and their way of life. Basketmaking, jewelry, art, cloth making, medicine and more can be explored on this tour. This tour will also take us to a Maya market at Xunantunich, there you will have an opportunity to see and shop amongst an array of Maya artisans.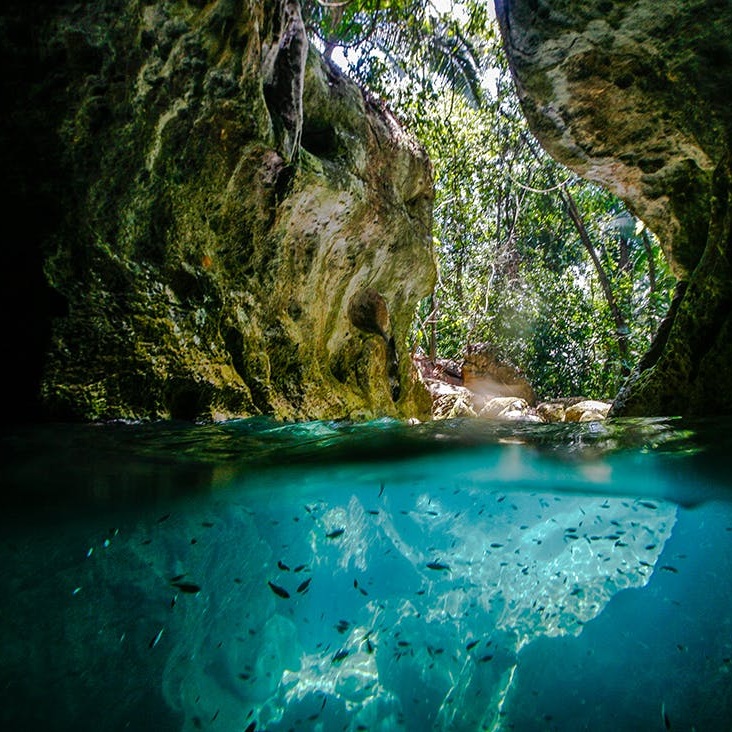 St Herman's Blue Hole Cave
Belize is best known for the tropical jungle and the Maya culture which dwelled within. This day tour is an epic journey thru St. Hermans National Park and into xibalba, the Maya underworld. The park is one of Belize's largest protected areas, diverse in flora, fauna and rich in history. Enjoy a swim in the cool water cenote at the Blue Hole, then descend into St. Hermans Cave for an experience in the Mayan afterlife.